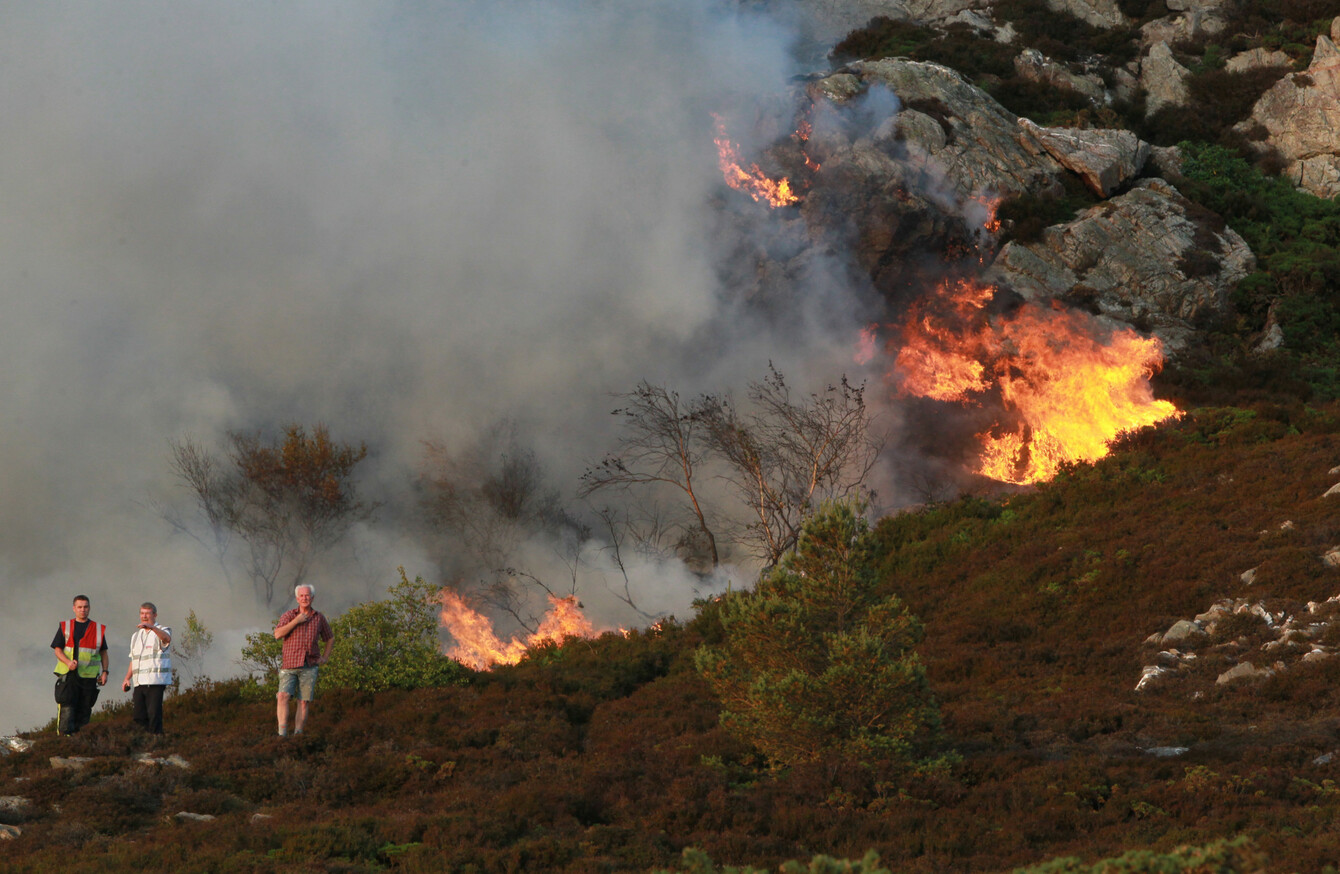 A gorse fire in Howth, Dublin in 2013.
Image: Sam Boal via Rolling News
A gorse fire in Howth, Dublin in 2013.
Image: Sam Boal via Rolling News
THE IRISH WILDLIFE Trust has made a formal complaint to the European Commission that the Irish government is failing to protect threatened wildlife after 97 illegal wildfires happened this year.
The IWT has said that the Irish government is failing in its duty under the EU Birds and Habitats Directives to protect the wildlife in Ireland's uplands and hills.
It presented the Commission with a list of 97 illegal wildfires between 24 March and 22 May this year. The fires happened in 19 counties across Ireland.
Adopted in 1979, the Birds Directive aims to protect all wild birds and their most important habitats across the EU.
A total of 29 of the reported fires (40%) happened within sites designated under the Natura 2000 network - resting sites for rare and threatened species, and some rare natural habitat types.
The network stretches across all 28 EU countries, both on land and at sea.
These sites include Killarney National Park, Wicklow Mountains National Park, Connemara, Mount Leinster in Carlow, Mount Brandon in Kerry and the Ox Mountains in Sligo.
Earlier this year, over a third of Ireland's largest forest, Cloosh Valley in Galway, was destroyed by a massive wildfire. The forest is over 4,000 hectares.
The IWT has criticised the government over the fact that these areas are affected annually and has said that no action is being taken to prevent the fires.
The trust has called on the government to implement policy measures which would reduce the level of fires, including "removing the requirement for farmers in uplands to have vegetation at grazable height". It said that this is difficult to achieve without recourse to fire.
"Irish mountains have suffered an ecological catastrophe over the past 50 years," IWT campaign officer Pádraic Fogarty said.
They are no longer the beautiful, wildlife-rich places they once were. Landscapes and nature have been replaced with scorched land and plantations – which contribute to carbon emissions, pollution, erosion, flooding, loss of scenic value and livelihoods.
"This has happened not because of lack of resources or uncertain science, but a lack of political will," he said.
A spokesperson for the Department of Housing, Planning and Local Government told TheJournal.ie: 
"The issues raised are a matter for more than one Department and agency. The Department of Culture, Heritage and the Gaeltacht has responsibility for the Directives involved , our Department has responsibility for fire services while DCCAE is responsible for environmental matters.
Without having seen the exact nature of the complaint, it is difficult to comment, however, we are aware of the issue of wildfires and anyone witnessing any such unlawful activity should bring it to the attention of An Garda Siochana immediately.